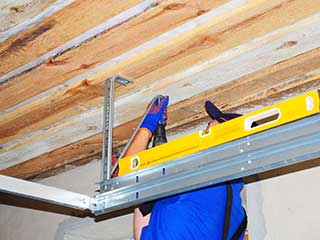 Though we operate in a 'Do-It-Yourself' culture, sometimes you need professional help. Granted you can paint a door, or perhaps even perform an electrical fitting, but for garage door repairs, you need proper equipment, knowledge, and expertise. Fortunately there are various professionals on hand to fulfill your repair needs, but why exactly should you call a professional for help? Read on to find out…
You Could Make the Problem Worse Otherwise
Have you ever been in a situation where you try to make something better, but only make it worse? Amplify this by one hundred to imagine what performing garage repairs is like. One critical mistake and things can get costly, and potentially unfixable. You might even risk your warranty, so sensibly take advantage of professional help.
Ouch! Don't Hurt Yourself
Safety is a huge consideration when attempting to fix problems yourself. It's important to note, the average garage door weighs upwards of 400 pounds. The torsion spring in place has enough coiled-up energy to power your door effectively. Together, you have two elements which can cause serious damage. Without the proper training and experience, it's difficult to take necessary safety precautions, and the last thing you'll want is to lose a limb. To protect yourself adequately, use a professional who has the correct tools, and will execute maintenance with safety as a top priority.
Reduce Repair Costs
Regular maintenance will prevent additional costs later on. If unattended, small issues can gather traction and ultimately damage your garage door more than you could've ever envisioned. Regular attention like greasing, oiling, and general inspection offers peace of mind, safeguarding against more serious, expensive damage.
Prevent Damage
Wear and tear is expected with any garage door, but professionals can prevent damage rearing its ugly head. Hinges, containment cables, and roller brackets can be evaluated by a professional, and minor damages can be attended too, or even prevented before they occur. Unwanted accidents are the result of not assessing minor damages, so this is best avoided at all costs.
Conclusion: Always Call a Professional!
Hopefully you have found this article informative, and understand the importance of calling a professional for serious repairs. If you're a keen DIY-er who loves to do things yourself, there are a few things you can do to help the situation. Lubricate your parts and clear any debris from rollers, as a simple method for taking care of your door and minimizing costs.