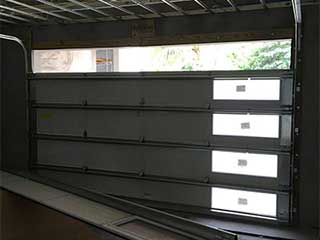 Some people have a distinct DIY attitude when it comes to fixing something that's broken. And while this approach might work well on a few jobs around the house, repairing a garage door is a complex and dangerous process, and is best left to our trained technicians.
Think Safety First
Considering a door can easily weigh up to 400 pounds, you can begin to realize the kind of energy it takes to open and close it. Garage door springs are powerful metal coils that can wear out over time. When they become weak they can suddenly snap, causing possible harm to anyone standing close by. If you have a spring that needs replacing, it's better to be safe and call in our team and let our experts handle it.
Save Time and Money
Whether it's squeaky rollers, a broken opener motor gear, damaged door panels, or any other part, attempting to repair these issues by yourself involves the risk of making things worse. Our skilled technicians know all the major brands like the back of their hands, and they are extensively trained to deal with all kinds of issues at affordable prices.
Every Brand And Model
We are your local professionals for every style and brand of overhead door and electric opener. Our skilled team has experience with manufacturers like Windsor, Genie, and Raynor, to name just a few. No matter what your problem is, or what model you have, we can repair it. We also offer professional garage door and opener installation services, so you can count on us for assistance in that field as well.
Don't Wait – Call Today
Don't fall into the trap of trying to fix your garage door by yourself. That's a job best left to the experts. In the long run, our services can save you money and time, while keeping you and your family safe from harm.
Our professionals at Garage Door Repair Manor cover the full range of possible problems and our services are the most efficient and affordable ones around. Call today and let us know what needs to be done.
Give our team a call if you need help with:
Extension Spring Adjustment
LiftMaster Garage Door Openers
Track Replacement & Repair
Bent Garage Door Track Repair