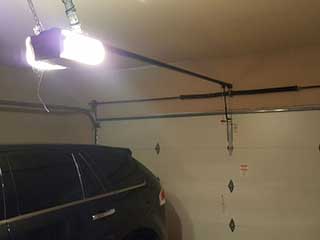 The job of garage door openers is to provide full automation to door systems of all sizes and levels of complexity. Our job is to ensure that these devices work flawlessly at all times so that you can enjoy the convenience of these modern systems.
All About Modern Openers
Modern opener units use a range of advanced technologies from the mandatory safety reversal mechanisms to rolling code technology that helps keep intruders out. Even though they have greatly advanced over the years, the principles of their operation have remained the same. Their primary focus is to automatically lift the door up and down so you don't have to manually do this. Although modern openers are built to last, glitches can sometimes arise. Luckily, our professionals are on hand to solve any malfunction that crops up. If a replacement part is needed, we have spare components available - whether it's a malfunctioning motor or electrical problem, we'll be able to get to the bottom of the problem for you.
Any Model, Any Malfunction
Thanks to the vast expertise and experience of our technicians, our service covers all models and devices of openers. Whether you're struggling with a noisy chain drive unit from Chamberlain or an advanced Genie belt drive, our team will troubleshoot the issue and perform the repair needed. We can repair accompanying devices as well - count on us for resolving a variety of problems with safety sensors, remote controls, and wall-mounted buttons.
Full Maintenance Services
We provide complete maintenance services to opener devices of all types, ages, and brands. As part of this regular servicing, we can provide full inspection and testing. If you have a screw drive or chain drive unit, we will provide professional drive lubrication to protect against rust and keep your system operating as quietly as possible.
Do you have further questions regarding our services at Garage Door Repair Manor? Just get in touch with our team today for assistance that's tailored to your needs.
We also offer:
Garage Door Cable Replacement
Belt Drive Opener Installation
Garage Door Remote Clickers
Roll Up Garage Door Services